In 2020, a bunch of electric vehicle startups went public in hopes of capitalizing on surging EV interest and becoming the next Tesla (TSLA). 
Three years later, those EV makers have learned that becoming the next Tesla is no easy task. 
A few have closed shop.
Last summer, electric van maker Electric Last Mile Solutions filed for bankruptcy. Dutch firm Lightyear went under earlier this year. Electric truck startup Lordstown Motors (RIDE) recently said it's at risk of bankruptcy. 
Others have survived but they are struggling. 
Last week, EV startup Fisker (FSR) cut its 2023 production guidance. And Lucid (LCID) did the same. 
As it turns out, what Tesla did is nothing short of extraordinary. Creating a new multi-hundred-billion-dollar auto business in a 100-year-old industry with well-established incumbents is an enormous challenge. 
Everyone trying to replicate Tesla is either going out of business, missing delivery targets, or cutting production guidance. 
That is, everyone except for one EV maker. 
At present, there is only one EV startup we know of that is actively producing a ton of brand-new cars and didn't miss first-quarter delivery estimates or cut 2023 production guidance. 
That company is Rivian (RIVN). And that's why we think RIVN stock could be the best EV stock to buy today. 
The Quick Rundown on Rivian
For those that are unaware, Rivian is an EV startup that is designing, manufacturing, and selling high-end electric SUVs and pick-up trucks. The company is widely considered one of the most technologically advanced and promising pure EV makers in the world today. 
Rivian started delivering units of its first model – the R1T – in 2021. 
The R1T is an electric pick-up truck that seats five, has a 54×50-inch bed and gets roughly 300 miles per charge. It can tow up to 11,000 pounds and has a 0-to-60 mph time as quick as three seconds. The interior comprises vegan leather, with a panoramic all-glass roof and a custom enhanced audio system.
It's a very high-quality electric pick-up truck. It currently starts at $73,000. Rivian delivered almost 1,000 of these trucks in 2021 and more than 20,000 in 2022.
Rivian's second model is an electric SUV dubbed the R1S. 
It's a large-format SUV that can comfortably seat up to seven passengers and their gear. It, too, gets roughly 300 miles of driving range on a single charge and can accelerate from 0-to-60 mph as quick as three seconds. It has all-wheel-drive capability and is outfitted with the same interior fittings as the R1T: vegan leather interior, all-glass panoramic roof, and a custom enhanced sound system. 
R1S deliveries just began earlier this year, with the company shipping models to employees first and now to the general public. Starting price is $78,000. 
Rivian went public in a highly anticipated and briefly super-successful initial public offering (IPO) in 2021. The stock has since struggled after a brief hot run. Today, the company is worth about $13 billion. And I think that valuation is an absolute steal for this stock. 
The Long-Term Bull Thesis on Rivian Stock
Long-term, I strongly believe that high-quality EV stocks are great multi-year investments, since EVs are set to grow from ~10% of car sales today to 50%-plus by 2030. 
As the whole industry grows 5X, the companies at the forefront of this disruption will sell lots of cars, generate lots of profits, and unlock lots of shareholder value. 
Over the next five to 10 years, some of the stock market's biggest winners will be high-quality EV stocks.  
But as I said above, most new EV stocks will fail. Some already have. In order to be a successful long-term EV stock investor, you need to be invested in only the top EV stocks that will crush the competition. 
Rivian is in that category. 
Why? Because of five big sticking points to the bull thesis on RIVN stock: 
#1: Leader in a Strong Demand Niche of the Burgeoning EV Industry
We know that the trucking niche of the automotive market is very large with very durable and strong demand drivers. Presumably, as that portion of the auto market gets electrified, there will emerge an equally large electric truck market. Presently, there is no clear leader in that market. But Rivian has a promising early start with a fantastic first-to-market truck that has among the best specs in the industry. This electric trucking market will support multiple winners, and we're confident Rivian will be one of them.
#2: Great Brand Equity, With Strong Technology and a Fantastic First Product
Rivian has established exceptional luxury branding and has developed leading EV battery and torque technology. These are two things that are very important for creating a great electric truck. Indeed, the R1T is probably the highest-performing electric pick-up truck in market today. And it should remain so for the foreseeable future.
#3: Strong Early Demand Signals
As one of the most promising electric vehicle startups, Rivian has received an impressive number of preorders for its two flagship models: the R1S SUV and the R1T pickup truck. According to the company, it has at least 114,000 net preorders in the U.S. and Canada, indicating a strong early demand signal for its products. This shows that consumers are attracted by Rivian's unique value proposition of combining adventure, performance, and sustainability in its vehicles.
#4: Big Support and Partnerships
Aside from its recently announced collaboration with Mercedes-Benz, Rivian also has a very unique and promising partnership with Amazon (AMZN). The retail giant will buy at least 100,000 electric delivery vehicles from Rivian. The extent of this partnership broadly implies that Amazon has basically picked Rivian as its "horse" in the EV race. And at scale, it will convert its entire delivery fleet into Rivian cars. That represents a huge long-term opportunity.
#5: A Mammoth-Sized Balance Sheet
The best thing about Rivian is that it has about $11 billion in cash on the balance sheet, and that grants the company an almost unfair advantage over peers. Rivian plans to use basically every penny of that cash balance over the next two to three years to develop market-leading tech, secure market-leading supply deals, and establish market-leading production capacity. Rivian's $11 billion should enable it to create an electric vehicle empire by 2025. 
For those five reasons, I believe Rivian projects as one of the largest producers of EV cars by 2030, rendering it one of the most valuable auto companies in the world by then.
My "back-of-the-napkin" math indicates that Rivian could hit the million-deliveries-per-year milestone by the late 2020s. At a $70,000 average sales price, that implies total revenues of $70 billion. Assuming a similar margin profile as Tesla (30% gross margins/20% operating margins), that would lead to $14 billion in operating profits – or about $10 billion in net profits after taxes.
A simple 20X price-to-earnings multiple on that implies a potential late 2020s valuation target for Rivian of $200 billion. That's nearly 10X the current market cap, meaning I see Rivian stock as a potential ten-bagger.
Powerful Short-Term Drivers for Rivian Stock
In the short-term, I think Rivian has proven itself as a top-level executor in this space. And this differentiation should help push RIVN stock higher into, throughout, and beyond the summer. 
Pretty much every other EV startup is disappointing investors right now. Like I said earlier, Lordstown Motors is warning investors of bankruptcy, and Lucid and Fisker both just cut their 2023 production targets. 
Meanwhile, Rivian delivered a record 7,946 cars last quarter, well-above estimates for 7,150 deliveries. Management also reaffirmed their target for 50,000 deliveries in 2023. 
Rivian beat quarterly delivery estimates and maintained its 2023 delivery target. No other EV startup has done that. For the most part, everyone else is missing estimates and cutting targets. 
Not Rivian – it's the only EV startup not disappointing investors right now. It is  out-executing the competition. 
We believe Rivian has sufficiently differentiated itself from the competition this quarter to drive meaningful outperformance in RIVN stock. 
This appears to have already begun. Ever since the first-quarter earnings season began in late April, Rivian stock has jumped 15%, much more than Tesla, Lucid, Canoo (GOEV), and Lordstown Motors stock.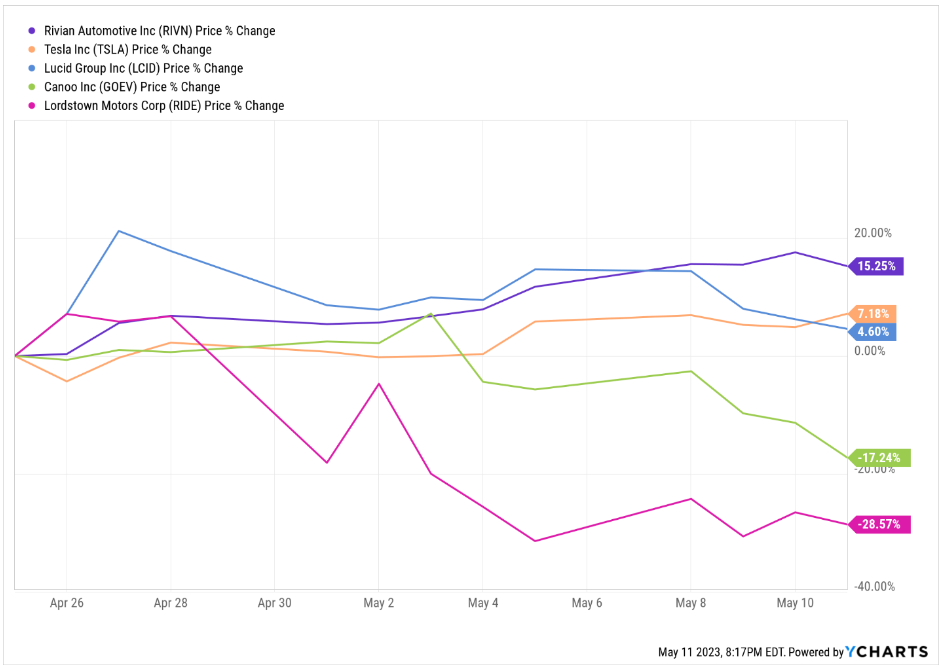 Rivian is starting to look like the best-in-class in a struggling EV industry. And that makes Rivian stock a strong buy candidate at current levels. 
The Final Word on Rivian Stock
We love Rivian stock as a long-term investment opportunity. 
But in fact, it isn't even our favorite long-term investment opportunity right now.
The reality is that the carnage of the 2022 bear market has created a plethora of excellent investment opportunities in 2023. 
When's the best time to buy the next big thing? Right after a bear market strikes. 
Best time to buy Amazon stock? Back in 2002, after it dropped 95% during the dot-com crash and was trading for less than $10. 
Best time to buy Salesforce (CRM) stock? Back in late 2008, after it dropped 70% during the 2008 financial crisis and was trading for less than $10. 
You get the point. 
The best time to buy the "next big thing" is on the heels of a market crash wherein the stock got wiped out by 70%, 80%, 90%-plus. 
And for the first time in 15 years, those opportunities are finally present in the market. Are you capitalizing on them?
Find out some of our favorite "next big thing" investments in the market today.
On the date of publication, Luke Lango did not have (either directly or indirectly) any positions in the securities mentioned in this article.
Products You May Like