Icahn Enterprises LP's stock rose 14% Friday to put it on track for its biggest one-day gain since May 5, after the company's third-quarter loss narrowed from a year ago while revenue was ahead of expectations.
The company said it's sticking with its quarterly distribution, or dividend, of $1 a share, which it halved last quarter.
Carl Icahn's investing arm
IEP,
+13.08%
has languished since short seller Hindenburg Research published a scathing article about the company on May 2, accusing it of overstating values and paying a dividend it could not afford, among other things.
The stock has shed billions of dollars in market capitalization, and in August, it cut its dividend in half. The stock set a fresh 19-year low this week and is down 61% in the year to date, while the S&P 500
SPX,
+0.94%
has gained 12%.
Icahn has rebutted the allegations, causing the stock to rally on May 5, before falling again. The billionaire activist investor accused Hindenburg Founder and CEO Nate Anderson of writing a misleading and self-serving report.
For more on Nate Anderson: The MarketWatch 50
A New York Times article published in August highlighted the fallout from the short-seller report on Icahn. "It is very, very embarrassing for Carl because this guy beat him and beat him at his own game," Mark Stevens, the author of a 1993 book titled "King Icahn: The Biography of a Renegade Capitalist," told the Times.
"I believe the second quarter partially reflected the impact of short selling on companies we control or invest in, which I attribute to the misleading and self-serving Hindenburg report concerning our company," Icahn said in a statement at the time.
Hindenburg also revealed that Icahn had borrowed money from his own company, a development that was disclosed in a footnote to financials and that Wall Street had overlooked.
Read: What we know about Carl Icahn's margin loan
See also: Carl Icahn rebuts short seller Hindenburg Research's report. It's already cost his company $6 billion in market cap.
On Friday, Icahn Enterprises posted a net loss of $6 million, or 1 cent a share, for the quarter, narrower than the loss of $123 million, or 37 cents a share, posted in the year-earlier period. Revenue fell to $2.991 billion from $3.334 billion a year ago.
The FactSet consensus was for earnings of 34 cents a share and revenue of $2.712 billion.
Indicative net asset value increased in the quarter to $5.2 billion, up $147 million from a year ago but down $474 million from Dec. 31, 2022.
On a call with analysts, Chief Executive David Willetts said the operating companies in the portfolio have performed well with each of them posting solid gains on a year over year basis. The investment funds had a negative return of 4.4%, primarily driven by energy sector shorts, he said.
Icahn Enterprises, which is 84% owned by Icahn and his son, Brett, offers exposure to Icahn's personal portfolio of public and private companies, including petroleum refineries, car-parts makers, food-packaging companies and real estate. Its unit holders are mostly retail investors.
As the stock rallied, the company's bonds were also showing signs of strength, according to data solutions provider BondCliQ Media Services.
As the following chart shows, there was net buying of the bonds on Friday.
The bonds have been ticking higher over the past five days, led by the 4.375% notes that mature in 2029.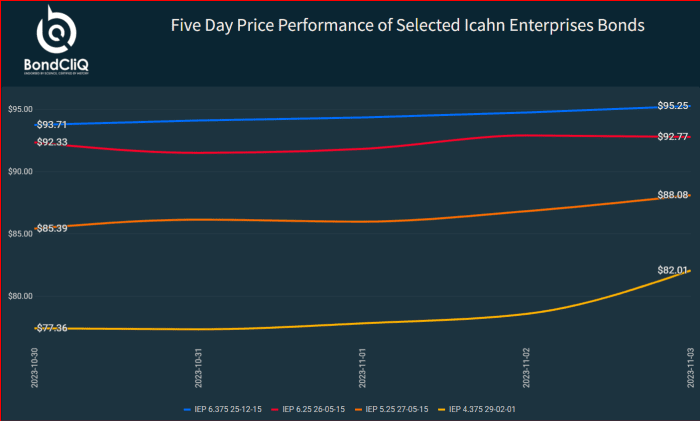 Products You May Like